Bluedio T4S Active Noise Cancelling Bluetooth Headphones - Black
£40.84
£35.99
&FREE Shipping to UK
Brand:

K&F Concept

Buy K&F Concept bluedio t4s active noise cancelling bluetooth headphones - black online, £35.99 free shipping to UK.

Availability:

In Stock

35.99

https://uk.kentfaith.com/02A00050B_bluedio-t4s-active-noise-cancelling-bluetooth-headphones---black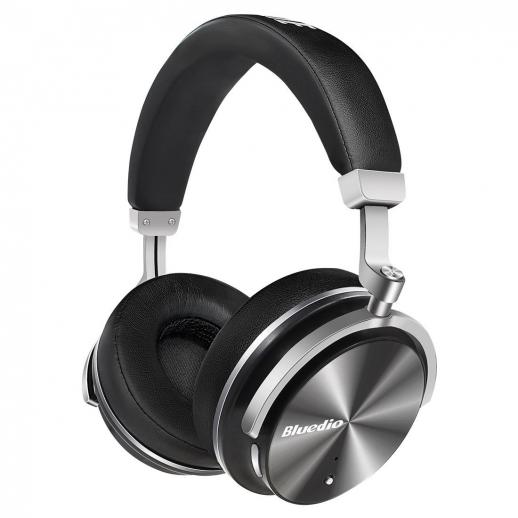 Bluedio T4S Active Noise Cancelling Bluetooth Headphones - Black
Buy 2+ items get
10% off
!
Features
• 【Bluedio Vector Flow Technology】We have incorporated a vent hole on the back cavity of the headphone which can exhaust gas and equalize air pressure on both sides of the headphone cavity. This enhances sound quality and allows the headphone to create deep and powerful bass sound reproduction.
• 【ANC Technology】Active Noise Cancelling technology cuts off surround noise significantly and lets you enjoy your music in its pure form. The ANC technology works in tandem with the 57mm drivers, so you can enjoy the immersive experience of listening a top notch music sound stage. You can always count on T4S headphones for crisp,vivid highs.
• 【TYPE-C Three in One Interface】Turbine 4th generation uses TYPE-C three in one interface which supports charging and data transmitting. It can be plugged in both sides, so it's very easy to use.
• 【Durability】In accordance with Bluedio's no-compromise on quality approach, the headphone is built with premium materials and high quality Polymers with chrome finish. All hinges, frames and sliders reflect high quality build. T4S is a durable headphone that will last for years.
• 【Rotating cup Design and Flat folding mechanism】To protect your ears, T4S comes with over-ear muffs and a rotating ear cup design for better fit. These headphones can be folded flat so they can accompany you on flights and long journeys without the worry of breaking.
Bluedio
Turbine T4S
Noise Cancelling Bluetooth Headphones
Stylish
look
VFT
technology
ANC
technology
Design idea
T4S is the superior version of Turbine 4. It inherits the powerful bass of Turbine series, you may immerse in the bass and just enjoy the wonderful music when wearing it. Not only having a stylish appearance, T4S also continues the good quality and brings you a comfortable wearing experience.
Laser carving, the exquisite craft
Adopt exquisite laser carving, highlight high grade.
Tuned for Discerning Ears
With optimized tuning technology, T4S brings the powerful bass and wonderful listening experience to you.
ANC de-noising experience
Key noise reduction, enjoy the comfort of quiet space! Music details are not missing, refreshing. (Note: it takes 5 seconds to open ANC in wired mode).
24-bit Audio
Resolution
Titanized 57mm
Diver Units
16Ω Low
Impedance
116dB
sensitivity
15-25,000Hz
Frequency
Bluetooth 4.2
Connectivity
10min Charging for 3h Music Time
The charging time is greatly reduced. You do not need to wait for hours till the headphones are fully charged.
Stylish & Comfortable
Bluedio T4S headphones are nice accessories with rotatable structure.
Exquisite alloy body, and ultra-soft ear cups.
Rotatable
Alloy Body
Laser Carving
Line in
music input
Line out
music output
Earphone
charging
Bluedio T4S Active Noise Cancelling Bluetooth Headphones - Black
Jeg elsker de her høretelefoner. De har fremragende lydkvalitet og mega god bass. De er over ear of de sider løst og det kan jeg godt lide. Jeg ved ikke om at det kan ske for andre men mine høretelefoner var lidt sure og gad ikke spille sange ordentligt med bass. Jeg vil sige at du SKAL købe dem vis du vil have nogen dejlige bluetooth høretelefoner!
Bluedio T4S Active Noise Cancelling Bluetooth Headphones - Black
Absolute Kaufempfehlung von mir...
... coole Bluetooth Kopfhörer starke Bässe und klare Höhen, trage sie so oft wie möglich, ich liebe dieses Teil und bis diesen Preis Absolut cool...LX
Bluedio T4S Active Noise Cancelling Bluetooth Headphones - Black
Sound ok, Noise cancelation funktioniert
Der Sound ist ok und die Noisecancelation hört man deutlich bzw. dann eben nicht mehr ;-)Etwas ungünstig finde ich das seitliche Drehgelenk der Ohrmuscheln. Mag sein, dass es dadurch besser an die Kopfform angepasst werden kann, aber damit hatte ich auch ohne noch nie Probleme. Mit dem Gelenk hab ich nun das Problem, dass ich den Kopfhörer nicht mit einer Hand aufsetzen kann, da sich die Ohrmuscheln wegdrehen. Ungünstig wenn man ein schlafendes Baby im Arm hält und nur eine Hand frei hat...
Bluedio T4S Active Noise Cancelling Bluetooth Headphones - Black
Excellent product design and quality
Very good product and excellent product design. Noise cancellation works well for noises like the airplane engines, but don't expect full silence, you need to spend much more for this.Be aware that that they are BIG, see attached pictures.I was surprised by the audio quality. Very balanced, no extra base as in other similar products. Closed type products with all that comes with it.
Bluedio T4S Active Noise Cancelling Bluetooth Headphones - Black
Bass
Goede geluidskwaliteit maar erg zwakke bass
These images belong to K&F Concept end users.