M42 Lenses to Fuji X Mount Camera Adapter
£32.69
£19.99
&FREE Shipping to UK
Brand:

K&F Concept

Buy K&F Concept m42 lenses to fuji x mount camera adapter online, £19.99 free shipping to UK.

Availability:

In Stock

19.99

https://uk.kentfaith.com/KF06.058_m42-lenses-to-fuji-x-mount-camera-adapter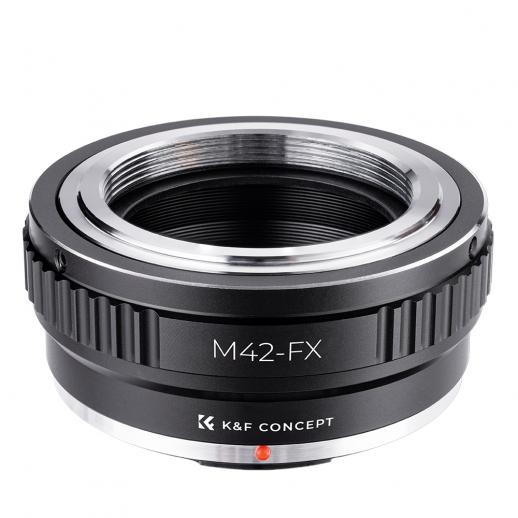 M42 Lenses to Fuji X Mount Camera Adapter
Buy 2+ items get
10% off
!
Features
• Allow M42 mount lenses used on Fujifilm X series camera body.
• Compatible with Fujifilm camera includes: X-A1, X-A2, X-A3, X-E1, X-E2, X-E3, X-M1, X-Pro1, X-Pro2, X-S1, X-T1, X-T10, X-T20, X-T2, X10, X20, X30, XF1, XQ1, XQ2 etc.
• Made of brass and aluminum. Stable, precise and durable construction. Manually operated. Infinity focus allowed.
• For heavy medium format lenses, we suggest to use with a telephoto bracket and a tripod to balance its weight when shoot.
• 30 Days No Reason Return, 12 months quality guarantee, 100% satisfaction assurance.
K&F Concept design and produce full range of lens adapters to fit lenses of Canon, Nikon, Pentax, Olympus, Leica, Contax Yashica, Minolta, Tamron, T2, C mount, Exakta, M39, M42, Pentacon etc used on Camera bodies of Canon, Nikon, Sony, Fujifilm, Pentax, Micro 4 3, Leica, M42, Cinema C mount etc.

M42 Lenses to Fuji X Mount Camera Adapter
Cette bague permet de monter les objectifs M42 sur les FUJI X-T20
Donc, j'imagine qu'elle fonctionne aussi avec les X-T1, X-T10, X-T2, X-T3 et suivants. Pas de soucis, ça fonctionne parfaitement avec un ancien Fujinon 55mm 1.8 en M42 ! Je vais pouvoir m'amuser avec ces anciens objectifs :)
M42 Lenses to Fuji X Mount Camera Adapter
Découvrir des objectifs d'exception
Cette bague me permets d'adapter de vieux objectif M42 sur mon Fuji.Très bon rapport qualité prix.Elle semble super solide et correspond à mes attentes.
M42 Lenses to Fuji X Mount Camera Adapter
Does a job but the fit isn't great.
The adapter works and is built to an acceptable standard. The only issue is that there is quite a bit of movement once the adapter is fitted, causing a rattling sound and some play in the fit.This isn't a cheap adapter when you consider how much M42 adapters cost for other mounts, so the play in the fit was surprising. This may be an issue if you shoot in the rain or humid climates as it may create an entry point for moisture to get in, even if your camera is weather sealed.Overall it gets the job done, but would not recommend if you're in situations where weather sealing is a must.
M42 Lenses to Fuji X Mount Camera Adapter
Perfect for Fuji X + Vintage Lenses
Use it to mount my Helios 44-M to my X-T3.The M42 mount is a good thread, and the X-mount bayonet fitting is solid. Works just like it should.
M42 Lenses to Fuji X Mount Camera Adapter
It works OK..
When you screw a m42 lens into a m42 camera mount, the red dot stops top dead centre, with the adapter to a fuji camera it goes about 5 deg. past. "No big deal"..
These images belong to K&F Concept end users.
| Image | Lens | Mount | Filter Size (mm) |
| --- | --- | --- | --- |
| | 3M-5A-MC 500mm f/ 8 | M42 | 77 |
| | 3M-5A-MC 500mm f/ 8 | M42 | 77 |
| | 3M-5SA 500mm f/ 8.0 | M42 | 72 |
| | 3M-6A 500mm f/ 6.3 | M42 | 95 |
| | 3M-7 300mm f/ 5.6 | M42 | 67 |
| | 3М-7К 300mm f/ 5.6 МС | M42 | 67 |
| | A. Schacht Munchen Travenar 85mm f/ 2.8 | M42 | - |
| | A. Schacht Ulm Edixa-Mat-Travenar 135mm f/ 3.5 | M42 | 49 |
| | A. Schacht Ulm Edixa-Mat-Travenar 135mm f/ 3.5 | M42 | 49 |
| | A. Schacht Ulm Edixa-Travegon 35mm f/ 3.5 | M42 | 46 |
| Camera | Mount |
| --- | --- |
| Fujifilm X-A1 | Fuji X |
| Fujifilm X-A10 | Fuji X |
| Fujifilm X-A2 | Fuji X |
| Fujifilm X-A3 | Fuji X |
| Fujifilm X-A5 | Fuji X |
| Fujifilm X-E1 | Fuji X |
| Fujifilm X-E2 | Fuji X |
| Fujifilm X-E2s | Fuji X |
| Fujifilm X-E3 | Fuji X |
| Fujifilm X-H1 | Fuji X |