Leica R Lenses to Leica M Camera Mount Adapter
£32.99
£39.99
&FREE Shipping to UK
Brand:

K&F Concept

Buy K&F Concept leica r lenses to leica m camera mount adapter online, £39.99 free shipping to UK.

Availability:

In Stock

39.99

https://uk.kentfaith.com/KF06.171_leica-r-lenses-to-leica-m-camera-mount-adapter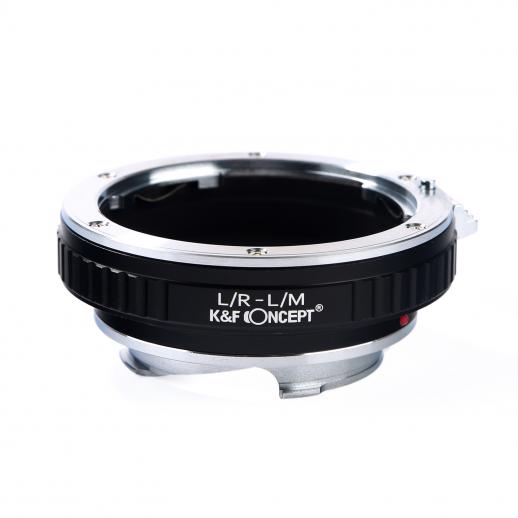 Leica R Lenses to Leica M Camera Mount Adapter
Buy 2+ items get
10% off
!
Features
• Allow Leica R mount lenses used on Leica M series camera body.
• Compatible with Leica M camera includes: Leica M1,M2,M3,M4,M5,M6,M7,M8,M9,M10,MP,MD,ME etc.
• Made of brass and aluminum. Stable, precise and durable construction. Manually operated. Infinity focus allowed.
• For heavy medium format lenses, we suggest to use with a telephoto bracket and a tripod to balance its weight when shoot.
• 30 Days No Reason Return, 12 months quality guarantee, 100% satisfaction assurance.
K&F Concept design and produce full range of lens adapters to fit lenses of Canon, Nikon, Pentax, Olympus, Leica, Contax Yashica, Minolta, Tamron, T2, C mount, Exakta, M39, M42, Pentacon etc used on Camera bodies of Canon, Nikon, Sony, Fujifilm, Pentax, Micro 4 3, Leica, M42, Cinema C mount etc.

Leica R Lenses to Leica M Camera Mount Adapter
Excellent
Essayé aussitôt avec la surprise d'un résultat excellent ... Malgré les difficultés inhérentes à un M non doté de Live View. Testé avec le 500mm F8, et le 180mm F2,8.
Leica R Lenses to Leica M Camera Mount Adapter
Obiettivo Leica Summilux 50 R su corpo Leica M tip 240
Acquistato per l'obiettivo in oggetto, non si riesce a mettere a fuoco con il telemetro, la messa a fuoco si deve fare in live view.Consegna di Amazon impeccabile
Leica R Lenses to Leica M Camera Mount Adapter
Gut und günstig
Sehr guter Adapter! Solide verarbeitet, wackelt nicht und Sitz stabil auf der Kamera. Die vorhandenen alten objektive lassen sich problemlos weiterverwenden.
| Image | Lens | Mount | Filter Size (mm) |
| --- | --- | --- | --- |
| | Hartblei 120mm f/ 2.8 TS-PC MC Super-Rotator | Leica R | 62 |
| | Hartblei 35mm f/ 2.8 TS-PC MC Super-Rotator | Leica R | 82 |
| | Hartblei 65mm f/ 3.5 TS-PC MC Super-Rotator | Leica R | 72 |
| | Hartblei 80mm f/ 2.8 TS-PC MC Super-Rotator | Leica R | 62 |
| | Komura 85mm f/ 1.4 | Leica R | 67 |
| | Leica Apo-Elmarit-R 180mm f/ 2.8 | Leica R | 67 |
| | Leica Apo-Macro-Elmarit-R 100mm f/ 2.8 | Leica R | 60 |
| | Leica Apo-Summicron-R 180mm f/ 2 | Leica R | - |
| | Leica APO-Telyt-R 280mm f/ 2.8 | Leica R | - |
| | Leica APO-Telyt-R 280mm f/ 2.8 Module | Leica R | - |
| Camera | Mount |
| --- | --- |
| 35mm Bessa | Leica M |
| Cosina Voigtländer | Leica M |
| Epson R-D1 | Leica M |
| Hexar RF | Leica M |
| Leica CL | Leica M |
| Leica M | Leica M |
| Leica M Monochrom | Leica M |
| Leica M-A | Leica M |
| Leica M-D | Leica M |
| Leica M-E | Leica M |