Minolta MD MC Lenses to Fuji X Mount Camera Adapter
£33.69
£22.99
&FREE Shipping to UK
Brand:

K&F Concept

Buy K&F Concept minolta md mc lenses to fuji x mount camera adapter online, £22.99 free shipping to UK.

Availability:

In Stock

22.99

https://uk.kentfaith.com/KF06.060_minolta-md-mc-lenses-to-fuji-x-mount-camera-adapter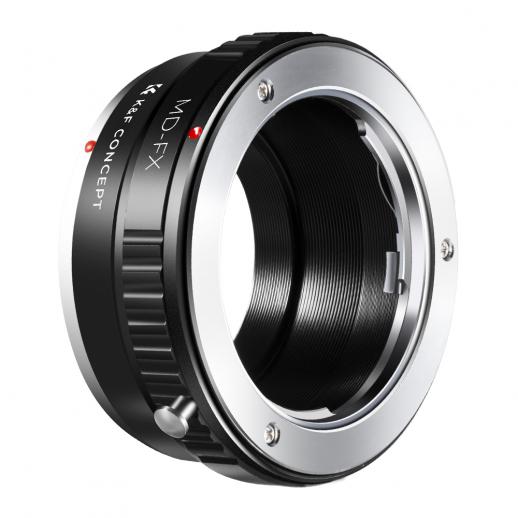 Minolta MD MC Lenses to Fuji X Mount Camera Adapter
Buy 2+ items get
10% off
!
Features
• Allow Minolta MD MC mount lenses used on Fujifilm X mount camera body.
• Compatible with Fujifilm camera includes: Fuji X-A1, X-A2, X-A3, X-E1, X-E2, X-E3, X-M1, X-Pro1, X-Pro2, X-S1, X-T1, X-T10, X-T20, X-T2, X10, X20, X30, XF1, XQ1, XQ2 etc.
• Made of brass and aluminum. Stable,precise and durable construction.Manually operated.Infinity focus allowed.
• For heavy medium format lenses, we suggest to use with a telephoto bracket and a tripod to balance its weight when shoot.
• 30 Days No Reason Return,12 months quality guarantee,100% satisfaction assurance.
K&F Concept design and produce full range of lens adapters to fit lenses of Canon, Nikon, Pentax, Olympus, Leica, Contax Yashica, Minolta, Tamron, T2, C mount, Exakta, M39, M42, Pentacon etc used on Camera bodies of Canon, Nikon, Sony, Fujifilm, Pentax, Micro 4 3, Leica, M42, Cinema C mount etc.

Minolta MD MC Lenses to Fuji X Mount Camera Adapter
Sehr zufrieden - Adaptiert Minolta MD an Fuji X-T30
Tut genau, was er soll. Adaptiert meine Minolta MDs an die Fuji X-T30, lässt mich mein Altglas nutzen und hält mich von teuren Neuanschaffungen ab. Gute Passung, nix wackelt. Sehr wertig gefertigt.
Minolta MD MC Lenses to Fuji X Mount Camera Adapter
as expected
works as expacted
Minolta MD MC Lenses to Fuji X Mount Camera Adapter
Super Verarbeitung
Der Adapterring ist sehr gut verarbeitet und passt perfekt auf meine X-H1. Es ist zu beachten dass man bei der Kamera "ohne Objektiv auslösen" in den Einstellungen aktiviert, damit man aufgrund der fehlenden elektronischen Verbindung zur Kamera den Auslöser betötigen kann.Für all jene die ein altes Objektiv zu Hause herumliegen haben und dieses auf der aktuellen Kamera verwenden möchten, kann ich den Adapter nur empfehlen.
Minolta MD MC Lenses to Fuji X Mount Camera Adapter
Sehr positiv überrascht
Ich bin absolut positiv überrascht! Der adapter passt hervorragend. Sowohl aufs objektiv als auch auf meine x-t3.Das wichtigste aber ist die tatsache das kein glas im adapter verwendet wird. Somit wird die qualität auch nicht leiden.Und auch die alten minolta objektive sind qualitativ auf sehr gutem niveau. Bin sehr zufrieden
Minolta MD MC Lenses to Fuji X Mount Camera Adapter
paßt und tut was er soll
Man glaiubt ja gar nicht, was bei so einem simplen mechanischen "Abstandhalter" alles falsch gemacht werden kann.Ein Negativbeispiel habe ich bereits erleben "dürfen". Der hier ist weit besser. Sitzt fest aber nicht (wie der andere, bereits zurückgeschickte Adapter) brutal stramm an der Kamera, und das Bajonett zum Objektiv hin ist ebenfalls fest, ohne zu stramm zu sein.Planlage ebenfalls OK, mir sind jedenfalls keine nennenswerten links<>rechts oder oben<>unten "asymmetrieb" aufgefallen.OK, man kann für einen solchen Adapter auch das Vierfache hinlegen, dann geht er vielleicht noch einen Hauch smoother auf die Kamera und/oder das Objektiv. Aber man kann auch alles übertreiben.
These images belong to K&F Concept end users.
| Image | Lens | Mount | Filter Size (mm) |
| --- | --- | --- | --- |
| | Access 28-70mm f/ 2.8-4.2 P-MC Macro | Minolta MD MC | 72 |
| | Access P-MC 35-70mm f/ 2.5-3.5 | Minolta MD MC | 58 |
| | Access P-MC 70-210mm f/ 3.5 (one ring) | Minolta MD MC | 62 |
| | Access P-MC 70-210mm f/ 3.5 (two rings) | Minolta MD MC | 62 |
| | Admiral MC Automatic 28mm f/ 2.8 | Minolta MD MC | 52 |
| | Albinar 135mm f/ 2.8 Super Auto MC | Minolta MD MC | 55 |
| | Albinar ADG 28mm f/ 2.8 macro focus | Minolta MD MC | 52 |
| | Albinar ADG MC 80-200mm f/ 3.9 | Minolta MD MC | 55 |
| | Angenieux 35-70mm f/ 2.5-3.3 | Minolta MD MC | 58 |
| | Asanuma 100-300mm f/ 5 auto-zoom | Minolta MD MC | 62 |
| Camera | Mount |
| --- | --- |
| Fujifilm X-A1 | Fuji X |
| Fujifilm X-A10 | Fuji X |
| Fujifilm X-A2 | Fuji X |
| Fujifilm X-A3 | Fuji X |
| Fujifilm X-A5 | Fuji X |
| Fujifilm X-E1 | Fuji X |
| Fujifilm X-E2 | Fuji X |
| Fujifilm X-E2s | Fuji X |
| Fujifilm X-E3 | Fuji X |
| Fujifilm X-H1 | Fuji X |