Minolta MD MC Lenses to Nikon 1 Camera Mount Adapter
£40.99
£39.99
&FREE Shipping to UK
Brand:

K&F Concept

Buy K&F Concept minolta md mc lenses to nikon 1 camera mount adapter online, £39.99 free shipping to UK.

Availability:

In Stock

39.99

https://uk.kentfaith.com/KF06.117_minolta-md-mc-lenses-to-nikon-1-camera-mount-adapter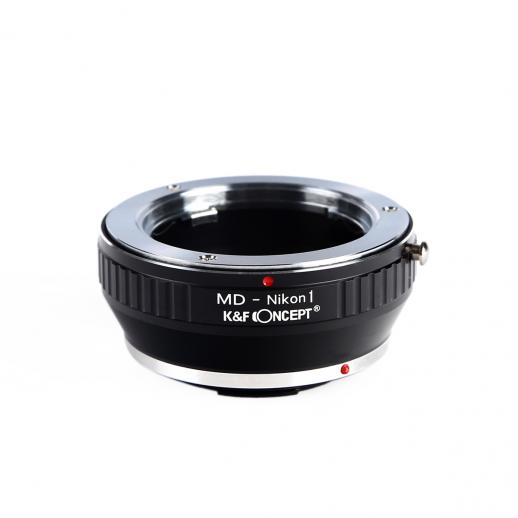 Minolta MD MC Lenses to Nikon 1 Camera Mount Adapter
Buy 2+ items get
10% off
!
Features
• Allow Minolta MD MC mount lenses used on Nikon 1 mirrorless camera body.
• Compatible with Nikon 1 mirrorless camera includes: Nikon 1 J1, J2, J3, J4, J5, V1, V2, V3, S1 etc.
• Made of brass and aluminum. Stable, precise and durable construction. Manually operated. Infinity focus allowed.
• For heavy medium format lenses, we suggest to use with a telephoto bracket and a tripod to balance its weight when shoot.
• 30 Days No Reason Return, 12 months quality guarantee, 100% satisfaction assurance.
K&F Concept design and produce full range of lens adapters to fit lenses of Canon, Nikon, Pentax, Olympus, Leica, Contax Yashica, Minolta, Tamron, T2, C mount, Exakta, M39, M42, Pentacon etc used on Camera bodies of Canon, Nikon, Sony, Fujifilm, Pentax, Micro 4 3, Leica, M42, Cinema C mount etc.

Minolta MD MC Lenses to Nikon 1 Camera Mount Adapter
Tolle Adapter, nicht nutzbar mit Nikon 1S1.
Lieferzeit, Qualität alles super. Nur leider ist der Adapter an meiner Nikon 1S1 nicht nutzbar, weil:Auto ISO,Belichtung Messung,Fokuszoomnicht funktioniert.Also ist es praktisch unmöglich damit zu fotografieren. Es ist aber nur Problem von der Kamera. Ob es mit J oder V Serie klappt kann ich nicht sagen.Deswegen habe ich jetzt mir neue Kamera gekauft, und würde die Adapter für meine neue Kamera auf jeden Fall kaufen, weil Qualität und der Preis unschlagbar sind.
Minolta MD MC Lenses to Nikon 1 Camera Mount Adapter
Funktioniert ohne Probleme mit Minolta Rokkor`en MD an Nikon 1 J5
Habe meine alten Minolta Festbrennweiten getestet. Alle passen genau und sind wieder verwendbar. Nikkon 1 J5 auf manuell stellen, Brennweite einstellen und auf die Zeit achten. Besonders mein altes Porträt-tele 85mm liefert schöne Bilder
Minolta MD MC Lenses to Nikon 1 Camera Mount Adapter
k&f concept lens ecc.
Purtroppo ho rinviato , in quanto non adattabile al mio modello di macchina fotografica, per mia colpa , tuttavia sono stato rimborsato totalmente, credo , non ho ancora verificato l'estratto bancario, ma mi è stato comunicato il bonifico.GrazieSonia Poma
| Image | Lens | Mount | Filter Size (mm) |
| --- | --- | --- | --- |
| | Access 28-70mm f/ 2.8-4.2 P-MC Macro | Minolta MD MC | 72 |
| | Access P-MC 35-70mm f/ 2.5-3.5 | Minolta MD MC | 58 |
| | Access P-MC 70-210mm f/ 3.5 (one ring) | Minolta MD MC | 62 |
| | Access P-MC 70-210mm f/ 3.5 (two rings) | Minolta MD MC | 62 |
| | Admiral MC Automatic 28mm f/ 2.8 | Minolta MD MC | 52 |
| | Albinar 135mm f/ 2.8 Super Auto MC | Minolta MD MC | 55 |
| | Albinar ADG 28mm f/ 2.8 macro focus | Minolta MD MC | 52 |
| | Albinar ADG MC 80-200mm f/ 3.9 | Minolta MD MC | 55 |
| | Angenieux 35-70mm f/ 2.5-3.3 | Minolta MD MC | 58 |
| | Asanuma 100-300mm f/ 5 auto-zoom | Minolta MD MC | 62 |
| Camera | Mount |
| --- | --- |
| Nikon 1 AW1 | Nikon 1 |
| Nikon 1 J1 | Nikon 1 |
| Nikon 1 J2 | Nikon 1 |
| Nikon 1 J3 | Nikon 1 |
| Nikon 1 J4 | Nikon 1 |
| Nikon 1 J5 | Nikon 1 |
| Nikon 1 S1 | Nikon 1 |
| Nikon 1 S2 | Nikon 1 |
| Nikon 1 V1 | Nikon 1 |
| Nikon 1 V2 | Nikon 1 |