Minolta MD Lenses to Minolta A / Sony A Mount Camera Adapter with Optic Glass
£53.27
£39.99
&FREE Shipping to UK
Brand:

K&F Concept

Buy K&F Concept minolta md lenses to minolta a / sony a mount camera adapter with optic glass online, £39.99 free shipping to UK.

Availability:

In Stock

39.99

https://uk.kentfaith.com/KF06.338_minolta-md-lenses-to-minolta-a-sony-a-mount-camera-adapter-with-optic-glass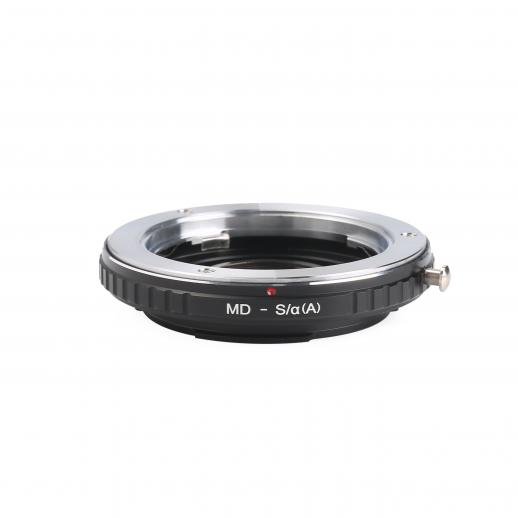 Minolta MD Lenses to Minolta A / Sony A Mount Camera Adapter with Optic Glass
Buy 2+ items get
10% off
!
Features
• Allow Minolta MD MC mount lenses used on Minolta A / Sony A mount series camera body.
• Compatible with Minolta A / Sony A camera includes: Minolta 7000, 9000, 5000, 7000i, 5000i, 8000i, 3000i, 2xi, 3xi, Qtsi, GT, 5xi, 7xi, 9xi, 300si, 350si, 400si, 500si/550si, 505si, 600si, 650si, 700si, 800si, Dynax 9, Dynax 7, Dynax 5, 40, Maxxum 5D, Maxxum 7D; Sony A900, A850, A99, A99 ii, A100, A700, A200, A300, A350, A230, A330, A380, A500, A550, A450, A290, A390, A560, A580, A33, A55, A35, A65, A77, A57, A37, A58, A77 ii, A-68 etc.
• Made of brass and aluminum. Stable, precise and durable construction. Manually operated. Infinity focus allowed.
• For heavy medium format lenses, we suggest to use with a telephoto bracket and a tripod to balance its weight when shoot.
• 30 Days No Reason Return, 12 months quality guarantee, 100% satisfaction assurance.
K&F Concept design and produce full range of lens adapters to fit lenses of Canon, Nikon, Pentax, Olympus, Leica, Contax Yashica, Minolta, Tamron, T2, C mount, Exakta, M39, M42, Pentacon etc used on Camera bodies of Canon, Nikon, Sony, Fujifilm, Pentax, Micro 4 3, Leica, M42, Cinema C mount etc.

Minolta MD Lenses to Minolta A / Sony A Mount Camera Adapter with Optic Glass
Eigentlich gut aber...
Ich habe mir vor kurzem ein Minolta Rokkor 50mm 1,4 Blende geholt. Da dieses Objektiv über ein MD-Anschluss verfügt musste ich mir den hier vorgestellten Adapter kaufen. Der Adapter ist dazu da um ein MD-Objektiv an einem A-Mount anzubringen.Der Adapter verfügt nicht über eine Informationsweitergabe. Also es werden keine Daten bezüglich Autofokus, Blendenöffnung etc. weiter geleitet. Die Kamera nimmt an dass, ohne Objektiv ausgelöst wird.Da der Abstand zwischen Objektiv und Kamerasenor zu groß ist, ist eine Korrektur-Linse im Adapter angebracht. Diese Linse ist der Grund dafür dass ich im dem Adapter 2 Sterne Abzug gebe. Denn dass Rokkor Objektiv ist bei Blenden-Öffnung von 1,4 an dem Adapter nicht zu gebrauchen. Anfangs dachte ich dass das Objektiv beschädigt sei aber es wurde an einer anderen Kamera mit anderem Anschluss angebracht und stellt das Objektiv bei Blendenöffnung von 1,4 gestochen dar.Ich habe 2 Fotos (Gitterkiste mit Kunststoff-Rohren) eingefügt beide unbearbeitet eines mit Blende 1,4 aufgenommen dass andere Blende 4. Bei Blende 1,4 ist deutlich ein Schimmern an den hellen Stellen zu sehen. Bei Blende 4 wird alles normal dargestellt.Ich finde den Adapter nicht schlecht, der Kunststoff-Verschluss zum A-Mount und dadurch dass das Rokkor 50mm bei Blende 1,4 nicht nutzbar ist, habe ich mit 2 Sternen Abzug bewertet. Um den Preis würde ich mir den Adapter nicht noch einmal kaufen. Andererseits kann ich ohne dem Adapter das Objektiv nicht nutzen. Segen und Fluch zugleich.
| Image | Lens | Mount | Filter Size (mm) |
| --- | --- | --- | --- |
| | Access 28-70mm f/ 2.8-4.2 P-MC Macro | Minolta MD MC | 72 |
| | Access P-MC 35-70mm f/ 2.5-3.5 | Minolta MD MC | 58 |
| | Access P-MC 70-210mm f/ 3.5 (one ring) | Minolta MD MC | 62 |
| | Access P-MC 70-210mm f/ 3.5 (two rings) | Minolta MD MC | 62 |
| | Admiral MC Automatic 28mm f/ 2.8 | Minolta MD MC | 52 |
| | Albinar 135mm f/ 2.8 Super Auto MC | Minolta MD MC | 55 |
| | Albinar ADG 28mm f/ 2.8 macro focus | Minolta MD MC | 52 |
| | Albinar ADG MC 80-200mm f/ 3.9 | Minolta MD MC | 55 |
| | Angenieux 35-70mm f/ 2.5-3.3 | Minolta MD MC | 58 |
| | Asanuma 100-300mm f/ 5 auto-zoom | Minolta MD MC | 62 |
| Camera | Mount |
| --- | --- |
| Minolta 2xi | Sony A / Minolta A |
| Minolta 3000i | Sony A / Minolta A |
| Minolta 300si | Sony A / Minolta A |
| Minolta 350si | Sony A / Minolta A |
| Minolta 3xi | Sony A / Minolta A |
| Minolta 400si | Sony A / Minolta A |
| Minolta 5000 | Sony A / Minolta A |
| Minolta 5000i | Sony A / Minolta A |
| Minolta 500si | Sony A / Minolta A |
| Minolta 505si | Sony A / Minolta A |