Minolta MD MC Lenses to Nikon Camera Mount Adapter with Optic Glass
£44.39
£49.99
&FREE Shipping to UK
Brand:

K&F Concept

Buy K&F Concept minolta md mc lenses to nikon camera mount adapter with optic glass online, £49.99 free shipping to UK.

Availability:

In Stock

49.99

https://uk.kentfaith.com/KF06.340_minolta-md-mc-lenses-to-nikon-camera-mount-adapter-with-optic-glass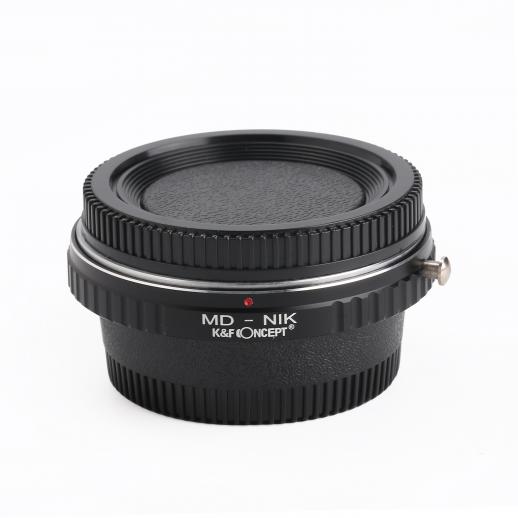 Minolta MD MC Lenses to Nikon Camera Mount Adapter with Optic Glass
Buy 2+ items get
10% off
!
Features
• Allow Minolta MD MC mount lenses used on Nikon DSLR camera body.
• Compatible with Nikon camera includes: Nikon D3000, D300s, D3100, D3200, D3300, D3400, D3s, D3x, D4, D400, D4s, D5, D500, D5000, D5100, D5200, D5300, D5500, D5600, D5s, D6, D600, D610, D700, D7000, D7100, D7200, D750, D7500, D760, D800, D810, D810a, D850, D90 etc.
• Made of brass and aluminum. Stable,precise and durable construction.Manually operated.Infinity focus allowed.
• For heavy medium format lenses, we suggest to use with a telephoto bracket and a tripod to balance its weight when shoot.
• 30 Days No Reason Return,12 months quality guarantee,100% satisfaction assurance.
K&F Concept design and produce full range of lens adapters to fit lenses of Canon, Nikon, Pentax, Olympus, Leica, Contax Yashica, Minolta, Tamron, T2, C mount, Exakta, M39, M42, Pentacon etc used on Camera bodies of Canon, Nikon, Sony, Fujifilm, Pentax, Micro 4 3, Leica, M42, Cinema C mount etc.

Minolta MD MC Lenses to Nikon Camera Mount Adapter with Optic Glass
Con lente propia que disminuye la luminosidad del objetivo
Lo devolví al comprobar que viene con una lente propia intermedia para conseguir que los objetivos manuales minolta puedan enfocar al infinito, lo que disminuye la luminosidad de los mismos y por ende su calidad original. Al que no le importe este factor comentar que la construcción es excelente acoplándose muy sólidamente a ambas partes.
Minolta MD MC Lenses to Nikon Camera Mount Adapter with Optic Glass
Ha funcionado perfecto
No he tenido ningún inconveniente. Ha funcionando a la perfección.!Buena construcción.
| Image | Lens | Mount | Filter Size (mm) |
| --- | --- | --- | --- |
| | Access 28-70mm f/ 2.8-4.2 P-MC Macro | Minolta MD MC | 72 |
| | Access P-MC 35-70mm f/ 2.5-3.5 | Minolta MD MC | 58 |
| | Access P-MC 70-210mm f/ 3.5 (one ring) | Minolta MD MC | 62 |
| | Access P-MC 70-210mm f/ 3.5 (two rings) | Minolta MD MC | 62 |
| | Admiral MC Automatic 28mm f/ 2.8 | Minolta MD MC | 52 |
| | Albinar 135mm f/ 2.8 Super Auto MC | Minolta MD MC | 55 |
| | Albinar ADG 28mm f/ 2.8 macro focus | Minolta MD MC | 52 |
| | Albinar ADG MC 80-200mm f/ 3.9 | Minolta MD MC | 55 |
| | Angenieux 35-70mm f/ 2.5-3.3 | Minolta MD MC | 58 |
| | Asanuma 100-300mm f/ 5 auto-zoom | Minolta MD MC | 62 |
| Camera | Mount |
| --- | --- |
| Nikon D1 | Nikon F |
| Nikon D100 | Nikon F |
| Nikon D1H | Nikon F |
| Nikon D1X | Nikon F |
| Nikon D200 | Nikon F |
| Nikon D2H | Nikon F |
| Nikon D2Hs | Nikon F |
| Nikon D2X | Nikon F |
| Nikon D2Xs | Nikon F |
| Nikon D3 | Nikon F |