Soft Neoprene Lens Pouch Bag Case (S M L XL)
£27.99
£12.99
&FREE Shipping to UK
Brand:

K&F Concept

Buy K&F Concept soft neoprene lens pouch bag case (s m l xl) online, £12.99 free shipping to UK.

Availability:

In Stock

12.99

https://uk.kentfaith.com/SKU1125_soft-neoprene-lens-pouch-bag-case-s-m-l-xl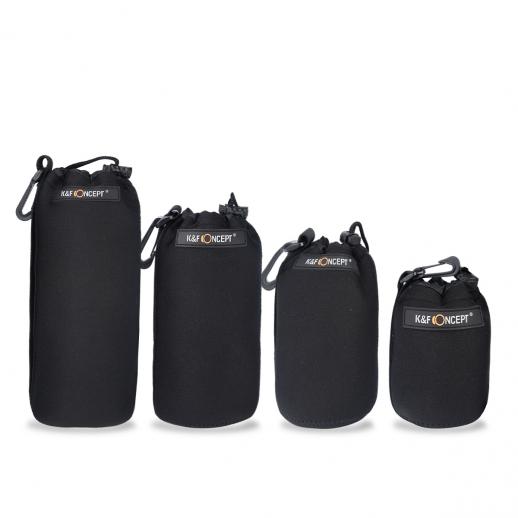 Soft Neoprene Lens Pouch Bag Case (S M L XL)
Buy 2+ items get
10% off
!
Features
• Includes 4 Pouches, each with different sizes: Extra Small, Small, Medium, Large
• Keep your lenses of all sizes safe in these soft neoprene pouches.
• Belt loops & quick clips allow you to attach your lens pouches wherever you see fit. Thick neoprene guarantees protection against harsh weather conditions and accidental bumps or scratches.
• Compatible with lenses from Canon, Nikon, Olympus, Fuji, Pentax, Panasonic, Sony, Leica, Sigma, Tamron, Vivitar, Minolta, Mamiya, Yashica,,Kodak, Konica, Hasselblad, Ricoh, Zeiss & Lensbaby.
• Brand of K&F Concept manufactured by a professional team,12 Month Manufacturer Warranty,100% Satisfaction Guaranteed.
Why Choose K&F Concept?

● Professional camera photo accessories manufacturer.

● Made of environmental silicone trademarks, protect the lens waterproof, crushproof.

● 5CM imported high elasticity neoprene

Size: S/M/L/XL

● S:W3.15''X H3.94''(8cm*10cm)

● M:W3.94''X H5.51''(10cm*14cm)

● L:W3.94''X H7.09''(10cm*18cm)

● XL:W3.94''X H9.4''(10cm*24cm)
 
Features

● Thick pliable neoprene body protects your lens from moisture, sand,

dust, dirt, and accidental impact.

● Soft faux fur lining for a unique style, and protection against scratches.

● Strong drawstring pull tab keeps your lens from shifting out, and makes

accessing your gear fast and easy.

● Reinforced belt loop and snap and swivel clip provides a convenient and

secure way to transport your gear outside of your case.

 
Compatibility:

S: Lenses up to 3" in length:
e.g. Canon EF 50mm F/1.8 STM, Canon EF 85mm f/1.8

M: Lenses up to 4.5" in length:
e.g. Tamron SP 35mm F/1.8 DI VC, Tamron SP 24-70 F/2.8 VC

L: Lenses up to 7" in length:
e.g. Canon EF 100mm F/2.8 L IS USM, Canon EF 70-300 F/4.5-5.6 L*

XL: Lenses up to 8.5" in length:
e.g. Sigma 50-100 F/1.8, Canon EF 70-200 F/2.8* (*Large reversible
lens hoods and tripod collars will not fit inside with lens)

What't in box

● 1X S size Soft Neoprene Lens Case/Pouch

● 1X M size Soft Neoprene Lens Case/Pouch

● 1X L size Soft Neoprene Lens Case/Pouch

● 1X XL size Soft Neoprene Lens Case/Pouch
Soft Neoprene Lens Pouch Bag Case (S M L XL)
buena relación precio calidad
LOS TRES OBJETIVOS QUE HE GUARDADO EN ELLAS QUEDAN PERFECTAMENTE, EL CIERRE, AUNQUE NO TOTALMENTE HERMÉTICO, ES SUFICIENTE Y SU ACOLCHA DEBE PROTEGER BIEN.
Soft Neoprene Lens Pouch Bag Case (S M L XL)
Su precio económico
Está bien .
Soft Neoprene Lens Pouch Bag Case (S M L XL)
Sabor agridulce, te lo explico en la opinión
He de decir que las fundas son de muy buena calidad, no son las típicas de neopreno, estas están forradas interiormente por un suave material como si fuera un peluche, el tacto es muy bueno. El cordón funciona bien pero es un cordón, a veces se atasca un poco pero es lo normal en este tipo de productos con cordón. Los objetivos irán bien protegidos en la mochila para que no se machaquen contra otros productos que les acompañen pero no son válidas para que se te caigan al suelo, a no ser que sea poca altura y en ese caso pues el objetivo no se mellará por la buena protección.El gran problema es que no son indicados para los que usamos cámaras mirroless de tamaño reducido, en mi caso una Fujifilm XT-2, mis ópticas no se adaptan ni a la funda más pequeña de este pack, bailan en su interior completamente. Estas fundas están pensadas para lentes de cámaras DSLR con full frame, por ejemplo (y porque lo he probado) para un Canon EF 24-70 f4 o un Canon EF 24-105 f4, ópticas compactas pero "tochas" con forma gordita, para que me entiendas porque estas fundas son muy anchas y esas ópticas entran perfectamente ajustadas. En la funda más grande entra bien un Nikkor AF-P 70-300mm f/4.5-5.6.En fin que si tienes objetivos pequeños estas fundas no son para tí, pero para los que usan DSLRs grandes o más bien ópticas "gordas", independientemente de la cámara, entonces son ideales.
Soft Neoprene Lens Pouch Bag Case (S M L XL)
Muy buena Calidad y Bonitos.
Son súper guapos, el interior es felpudo va súper bien para cuidar los lentes, muy prácticos, muy buena calidad, viene con un gancho que lo encuentro súper útil. Inclusive utilizo uno para llevar en mi bolso una Fuji X100T y va de maravilla. Recomedado!!!
Soft Neoprene Lens Pouch Bag Case (S M L XL)
Buena compra
Para el precio que tienen están genial, acabados buenos. Para llevar otra lente junto a la original son perfectas o para proteger los objetivos.
These images belong to K&F Concept end users.